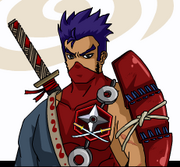 Uesugi Tatsutora
(上杉 辰虎 :
Ue-sugi Tatsu-tora
) (also known as the
Red Lava Tiger
) is the captain of the
Heavy Attack Division
, a group of offensive ninjas. He first appears in
Stage 4-1
of the
Special Jounin Campaign
. Uesugi is a sword master of the
Fire Village
and has been involved in many great wars. He was known as the Red Lava Tiger due to his unique skill in combining
Explosive Lava
and Kenjutsu (Sword Technique) together.
[1]
During Stage 4-1 of the Special Jounin Campaign, Uesugi sends the main character to a secret training area to throw Kunai at dummies.
Appears inEdit
Non-combat skillsEdit
ReferencesEdit