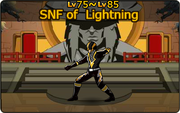 SNF of Lightning
is one of the five members of the
Special Ninja Force
unit who appears as a boss in the Shinobi Anniversary
Arena
during the World Ninja Athletic Games Event of the
3rd Anniversary
of
Ninja Saga
between July 27, 2012 and August 15, 2012. He uses
Thunder Ninjutsu
. 10 Energy Points are required to battle him.
Stats
Level: Anywhere between ±5 from character's level
HP: ?
CP: ?
Agility: ?
Possible rewards
Level 15-25: 1,200 Gold, 1,550 XP
Level 75-85: 3,600 Gold, 4,550 XP
Attacks
Lightning Combo Stike: Attacking the enemy with a form of martial arts. Deals damage to all the player if the main player is been attack or damage. Cast Blind status for 2 turns.
Lightning Uppercut Punch: Punch the enemy with an uppercut and cast a Stun for 2 turns.
Lightning Ten Thousand Arrows: Attacks the enemy using a lightning bow.
Lightning Thrusting: Attacks the enemy with a very thin sword in a fast movement.
Three Rapid Thunder Kicks: Kicks its opponents fast.
See also
Community content is available under
CC-BY-SA
unless otherwise noted.