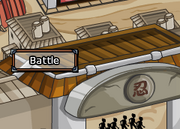 Practice
is a subarea of the
Battle
gate. In practice mode, the player will battle against one to three regular
enemies
in
Ninja Saga
and the enemies that appear are randomized.
By defeating all the enemies, the player will gain XP and Gold without having to do missions, boss battles, or any other things but the player would gain XP and Gold very slowly by this method.. The enemies that the player battles are the same level as the player and the higher level the player is, the more XP and Gold the player will receive after winning the battle.
The purpose of practice mode is to hone player's strategy for battling against enemies and against other ninja in Live PvP.
On July 3, 2012, the Practice feature was removed from the game.
Gallery