Ponpoco is a pet Racoon with an umbrella as its primary weapon. This pet can only be acquired during the Ninja Saga Hanami Festival 2011 Event after completing a set of required items to be gathered.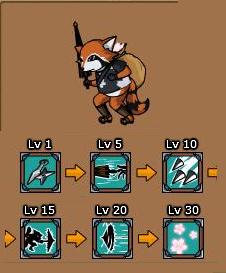 Attacks
Basic Attack (Lv. 1) - Pet's basic attack.
Umbrella Strike (Lv. 5) - Throw target a spinning umbrella.

Requires a training cost of 200,000 Gold.

Hibuki Shower (Lv. 10) - Ejects weapons from the umbrella and reduce target's CP by 10%.

Requires a training cost of 300,000 Gold.

Start! Guard! (Lv. 15) - 50% chance to Guard master (2 turns).
Secret: Kasatanuki (Lv. 20) - Transform into giant umbrella and Stun target (1 turn).
Secret: Sakura Scatter (Lv. 30) - Rain sakura petals to increase / Strengthen master's attack damage by 8% (2 turns).
See Also
Community content is available under
CC-BY-SA
unless otherwise noted.