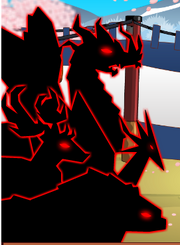 Origami Monsters 
are the animated summons of Hokage Yudai which the player must battle in the Sakura Festival 2013 event, Sakura Fest. 
Yudai summoned and animated the beasts with Genjutsu to test the ninjas of the Fire Village. Players must either capture the beasts with the help of the Scroll of Seal, which produces more rewards, or defeat them, but with less rewards.
However, they can only be captured when they reach a certain amount of their original HP. Each HP requirement varies per monster. Trying to capture them with more HP than what is required will be ineffective and would just waste a Scroll of Seal.
The four origami monsters are as followed:
Defeating the monsters will produce XP and Gold, along with a certain amount of Silver Sakura and Gold Sakura, depending on the which monster was battled and whether it was captured or defeated. The materials can be exchanged in the Materials Market for any of the event special rewards available until the event is over.
Community content is available under
CC-BY-SA
unless otherwise noted.