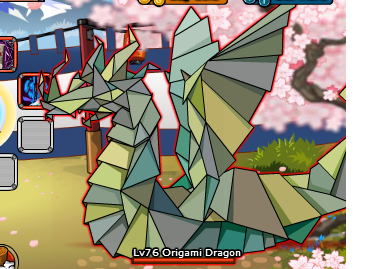 Origami Dragon
 is one of the 
Origami Monsters
 that appear in the event, 
Sakura Fest
. It looks like a dragon made of paper and is in different shades of green. Its attacks are water-based. It requires 10% 
HP
 or less before it can be sealed into the 
Scroll of Seal
.
Attacks
Hydro Missile - sends a missile made of water at the opponent. 
The Fang of Gin-ryu - bites its opponent.
Genei Satsu - a blue-white translucent hand appears on the ground below the opponent. Causes restriction for two turns.
Deadly Tsunami - Summons a giant wave engulfs the entire surroundings and its opponent.
Tips
Players can use the Futomaki Sushi to tell how much HP the Origami Dragon has left.
However, if the player has theIntelligence Class Jutsu , it is also easy to calculate how much HP the Origami Dragon should have before sealing: The total HP multiplied by 30%, or 0.1.
Community content is available under
CC-BY-SA
unless otherwise noted.