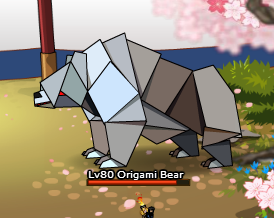 Origami Bear
 is one of the 
Origami Monsters
 that appear in the 2013 Sakura Festival Event, 
Sakura Fest
. It is color white and black, and is geometric in shape, much like a folded paper. It's attacks are
earth
-based.
It requires a 10% remaining HP before using the Scroll of Seal . It is the only beast among those present at the event that require a Ninja Emblem or 20 Tokens to battle, along with the standard 10 energy.
Attacks
Bloody Claw - claws at its opponent.
Rock Smasher - rocks shoots out to attack its opponent.
Gendeki Fuuin - encases its opponent in a rock pyramid. Restriction for two turns.
Kuma Crash - attacks opponent with its body.
Community content is available under
CC-BY-SA
unless otherwise noted.