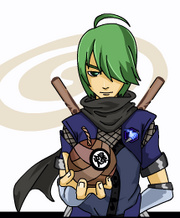 Maeda Sanza
(前田 三郎 :
Mae-da San-za
) is the captain of the
Surprise Attack Division
, a group of ninja who use the element of surprise to attack enemies. He first appears in
Stage 2-1
of the
Special Jounin Campaign
as the scouting team and he took the main character with him for the team since
Yudai
relies on the main character's abilities.
Later, after the main character defeats Akazosu, Maeda tells the main character to report back to Yudai.[1]
In his early life, he graduated the academy with his friend Tokugawa Bishi and was involved with the "Shinobi Card" project that Tokugawa worked on.[2]
Appears in
Non-combat skills
Manipulated Tools[2]
Setting traps[2]
Assassination[2]
See also
Gallery
References
Community content is available under
CC-BY-SA
unless otherwise noted.