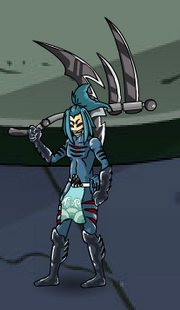 Kiyoshi (きよし)
is an opponent in the Shinobi Tower during the Jounin Exam.
Appears in
Stats
HP: 3712
CP: ?
Agility: ?
Attacks
Water Release: Water Bundle: Deals damage and inflict Restriction.
Water Release: Shark Rain: Deals 275-450 damage.
Water Release: Water Dragon Missile: Deals 180-350 damage.
Water Heal: Recover 1,500 HP to itself.
Dual Chop: Deals 50-110 damage twice.
See also
Community content is available under
CC-BY-SA
unless otherwise noted.