Home
is a the player's house in the town of the
Fire Village
exclusively for the
mobile
version of Ninja Saga where the player can viewer their gear,
items
,
achievements
, and statistics. This building was released during the 1.1.7 update release on the iOS. The Home was later updated in the 1.1.9 update release on the iOS. In version 1.1.22 on the iOS, a third room was released which included features that can backup and restore saved data.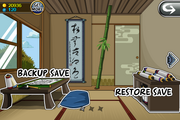 The office contains two options including Backup Save and Restore Save.
Backup Save: The scroll written on the table would backup the player's saved data.
Restore Save: These scrolls would be able restore a backed up saved data. In order to restore backed up saved data, the player would have to pay $0.99.
Living RoomEdit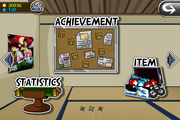 The living room contains two options including Achievement and Statistic.
Achievement: This backboard will show the list of achievements.
Item: This chest contains all of the player's items.
Statistic: These scrolls will show the player's overall progress.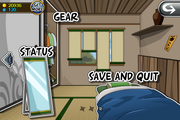 The bedroom contains three options including Gear, Item, and Save and Quit.
Gear: This is the closet. Edit the player's gear and equipment.
Status: This is a mirror. It views the player's characters' profile including stats and attributes.
Save and Quit: This is the player's bed. Saves game progress and returns to the main menu.