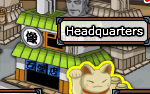 The
Headquarters
is a place where players can apply and purchase a
Ninja Emblem
, buy
Gold
, claim an item from Ken with a code, or view their character's name, character ID, rank, and number of
Tokens
.
Ken
,
Yudai
's brother and
Anaki
's stepbrother, is the person who runs this place.
Obtaining and redeeming a code
To obtain a code, one must purchase Facebook Credits with MOLPoints. However, Facebook Credits can only be purchased with this method by those who live in South East Asia, India, Australia and New Zealand.[1] When the player purchases Facebook Credits with this method, a code should be sent the player's email address which can be redeemed in the Headquarters to obtain a package of items.[2]
When redeeming a code in the Headquarters, each code can only be redeemed once. When a code has been used, it can no longer be used by anyone. When a code is redeemed, the player will be receive a package of items.
Quotes
Emblem tab
Ken: "Get a Ninja Emblem and you may create up to 6 characters, learn all skills instantly, challenge and recruit friends with unlimited turns, gain access to premium weapons, and more!"
Buy Gold tab
Ken: "You can get Gold Package directly from me. I have the best deal in the village."
Claim Code tab
Ken: "Give me your code and you can claim specific item from me."
The Candy Code
 Rewards: Kinjutsu: Black Friday Punch
Code:KOJIMA SERIES 22 

Rewards: 100 Token

Code: 

013831426D7A88C4BC0E6143612D3713F1 Rewards: 100 Token

Code: 

018019A685B7FE7AE4756B6BCFE436FB4C Rewards: 100 Token

Code: 

01267B1D005FF0EB5576BC65DB27E0

2509 Rewards: 100 Token
Gallery
See also
References
Community content is available under
CC-BY-SA
unless otherwise noted.