Please note that this is an article on the mission type that was previously known as Grade E Missions, if you are looking for the article on the mission type that was originally Grade C Missions before the major update then you should head to Grade A Missions.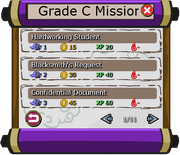 Grade C Missions
(formerly
Grade E Missions
) are Level 1 through Level 19 missions that can be done by all ninja. Grade C Missions are found in the
Mission Room
.
List of Grade C Missions
There are currently 33 Grade C Missions available in the Mission Room.
Tips for farming Gold/XP
Gold tips
After reaching Level 13, a player can farm Gold (as well as Experience Points) by doing the Level 13 Grade C Mission, Escaped Criminals. In that mission, there is a chance of getting a rare weapon drop that can be sold for a bit. Other Grade C Missions that are good for farming Gold are Rescue Action (Level 17) and Threatening Soil Village (Level 19) with their drops.
XP tips
The fastest way to level up after reaching Level 17 is by doing the Level 17 Grade C Mission, Clear Main Artery which is also a good mission to get Gold. The mission only occurs 1-2 battle with 2 Rogue Ninja which is easily beaten.
Community content is available under
CC-BY-SA
unless otherwise noted.