"Fire Assassin (ninja saga mobile), an elite group of ninja, they are one of the best."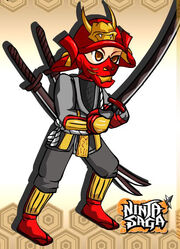 Fire Assassin
 is a level 40 Rank B boss in the
Hunting House
of the
mobile
version of Ninja Saga. The Fire Assassin uses lightning-fire jutsu and has attacks that restricts and burns the player that gets in his way.
Possible Rewards
1,100 Gold
Easy mode:
Sand Stone
Craft Stone
Wrath of Flame (back item)
Heatwave pants

Hard Mode:
Sand Stone
Craft Stone
Fire canine (weapon)
Heatwave shirt
Attack
Lightning Explosive Burst: Restricts the target for 3 turns.
Lightning Hammer: Deals damage.
Hell Fire Release: Inflicts the target with 50 DOT for 3 turns.
Yami Fire Slash: Attack target with fire-covered sword. Deals damage.
Attack: Deals damage.
Trivia
The total HP of fire assassin is 9,050.
Community content is available under
CC-BY-SA
unless otherwise noted.