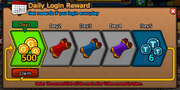 The Daily Login Reward was a daily login reward system that became available on November 10, 2011 that replaced the old Daily Lucky Draw system. This daily bonus feature lasted until January 19, 2012.
Features
The Daily Login Reward system was quite different from the Daily Lucky Draw. Unlike the Daily Lucky Draw, there were no multiplier bonuses for the Daily Login Reward. While the Daily Lucky Draw rewards a player XP, Gold, or Tokens a day by random, the Daily Login Reward might give the player XP, Gold, special Consumable Items, or Tokens.
On the first day, the player would be given Gold or XP by a random amount. On the second, third, and fourth day, the player would receive a consumable item. And on the fifth day, the player will be given Tokens. Then the Daily Login System will reset to Day 1 but the reward list will change. Also, if the player wants to sell these items, they can be sold for 50 Gold.
Rewards
See also
Community content is available under
CC-BY-SA
unless otherwise noted.