The
Daily Bonus
(previously is a building where players can collect their daily prize and gifts. It is run by
Niko
. It was first introduced in version 1.1.21 of the
iOS
version but the building was called
Spin
and it was only the Daily Spin. The Spin building was upgraded and renamed to Daily Bonus in the version 1.2.15 update of the iOS version but this update was first introduced in version 1.1.7 of the Android versoin.
Daily Spin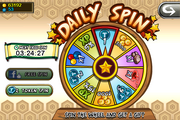 The Daily Spin was introduced in version 1.1.21 of the iOS version and in version 1.1.7 in the Android version. The Daily Spin is the mobile version of
Ninja Saga
's
Daily Lucky Draw
. Before the version 1.2.6 update on the iOS, players can only spin the Daily Spin once a day. But since version 1.2.6 on the iOS, players can get an additional spin by posting the news on Facebook. Starting in version 1.2.11, players can get additional spins by paying 2
Tokens
each.
By spinning the wheel, the player can receive:
Daily Gift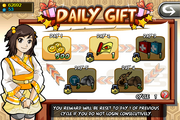 The Daily Gift was first introduced in version 1.2.15 of the iOS version, but will be introduced in the Android version in a future update. Once per day, the player can claim a gift by sharing a post to Facebook. There are five days with different rewards. If the player misses a day, the day count resets back to Day 1. After claiming gifts 5 days in a row, the reward set will go on to another cycle. There are different 3 cycles of rewards and each cycle gives more rewards.
Quotes
Gallery
Community content is available under
CC-BY-SA
unless otherwise noted.