Please note that this is an article on the iOS and Android version of the Chunin Exam, if you are looking for the article on the SNS version of the exam then you should head to Chunin Campaign.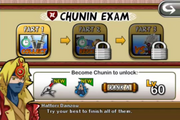 The
Chunin Exam
(中忍受験 or evenちゅうにんじゅげん  [Chuunin jugen] wich literally means
middle ninja admission exam
)
 is a exam that appears in the
mobile
version of Ninja Saga. The Genin Exam can be taken in the
Kage Room
after the player completes every
Rank B missions
at least once, regardless of any of the player's characters' level.
There are three parts to the Chunin Exam that needs to be complete in the responding order but the primary character must be at least level 40 to participate:
By completing the Chunin Exam, all of the player's characters will become a Chunin regardless of their current level and the player will have access to Rank A missions, Rank A world bosses, be able to collect Rank A collectables, level up to 60 and learn skills and equip gear up to level 60.
Community content is available under
CC-BY-SA
unless otherwise noted.