Please note that this is an article on building Blacksmith (House), if you are looking for the article on the NPC then you should head to Kenta.

The
Blacksmith House
is a place next to the
Shop
where players can forge and upgrade their
weapons
or buy weapons that are already upgraded. It is run by
Kenta
, the Blacksmith, who eventually became the owner of the
Materials Market
.
In the mobile version, the Blacksmith is run by Yamamoto. Upgraded weapons inflict more damage and have an effect when normal attacking or is already passive. The Android version of the Blacksmith can be rebuild by exchanging five minerals of any kind from the Hunting House.
Forging weapons
Before the end of June 27, 2012 (previously stated May 29, 2012), Upgraded weapons can be obtained in two ways, by forging a weapon with Gold and Magatama or by forging a weapon with Tokens only. After that, magatama and the Blacksmith House will be removed from the game[1] but forged weapons will still be in the game for players who already have them.
Forging a weapon requires a certain amount of Gold and Magatama or just Tokens to forge. Gold can be obtained generally though battles, missions, rewards, and gifts and Magatama can be obtained by defeating World Bosses and by receiving gifts. To forge a weapon, the weapon must NOT be equipped to a ninja's gear since players can't give away something they are currently using. After forging the weapon, the weapon will no longer be in the player's weapon inventory but an upgraded weapon of it will replace it.
As of April 2, 2012 with the release of materials and the Materials Market, which will replace magatama and the Blacksmith House, magatama can no longer can be obtained by defeating world bosses but can still be obtained by winning clan wars in 10th place or higher and the Blacksmith House will be demolished.[1]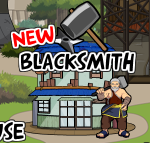 In the mobile version, weapons can be upgraded (in "rank" instead of a new weapon) by using
minerals
and
ninja spirits
. Ninja spirits can be obtained through missions while minerals can be obtained by defeating World Bosses in the
Hunting House
.
Gallery
See also
References
Community content is available under
CC-BY-SA
unless otherwise noted.